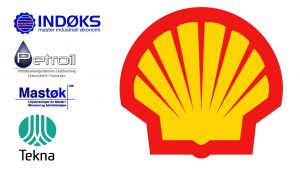 Shell Student Event
TEKNA, INDØKS, Mastøk and Petroil are pleased to invite our members to our first Shell-UiS Student Event!
The event is held exclusively for our students doing their 3rd – 5th year at the university and will take place on the 10th of September at their offices from 0830 – 1530. Busses will be provided to transport you back and forth from the University this day. Later that evening there will be held a social event for those of you that attend, and you will have the pleasure to be accompanied by Shell's Young Professionals. You can find a more detailed plan of the day below.
There are limited spots available, so those of you that are interested in attending the event will have to apply by submitting your CV and a short cover letter to Shell. In the cover letter you should mention your studies, experiences and interests and why you are a fitting candidate for Shell and their values. You should also include which case study you want to take part in and if you will be attending the social event. The CV and cover letter should be e-mailed to Marte.Tenold@shell.com due September 2nd. You will receive feedback by September 7th.
PLAN OF THE DAY
08:00 Pick up from the University of Stavanger Main Entrance
Introduction to Norske Shell by Vice President Agnete Johnsgaard-Lewis
HR presentation on recruitment
Presentations: 1) Ormen Lange
2) Project & Technology in Norske Shell
3) Commercial Community
4) New Energies in Norske Shell
5) Exploration
Case Studies: Students can choose between
1) The Game: Have you ever wondered how it is to be an Explorer? Or how it is to run you own oil company?
2) Strategy/New Business Development: How do you see the future of Norske Shell?
1530 Busses will take us back to the University
19:00 Dinner with Young Professionals in Shell
Light Breakfast, lunch, snacks and coffee/tea will be provided at Shell's offices during the day.